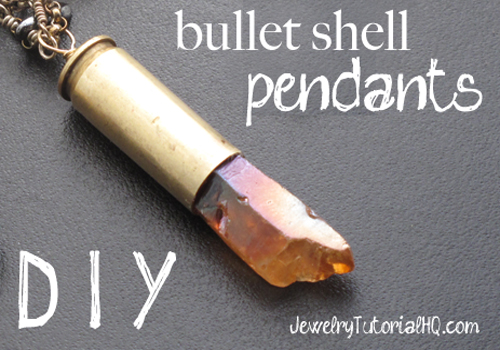 Bullet shell jewelry is all the rage these days, and it's no wonder! This video tutorial shows you step by step how to make your own cool pendants using spent bullet shell casings and quartz crystal points. You'll learn how to saw them off, drill a hole, and attach the bead.
You won't want to make just one! These funky pendants make a great addition to a long chain alone or with other fun charms and dangles.
TIP: If you are going to be working with brass shells, you may want to read about how to clean brass bullet shells before you get started.
You will need:
• empty bullet shell (ones shown are Remington .223 brass shells)
• jeweler's saw (with finetooth blade, size 2/0)
• 120 grit sandpaper
• 1/16″ drill bit {OR #66 (.033″) or #67 (.032″)}
• power drill {OR twist hand drill or rotary tool}
• eye protection
• about 6″ brass wire (craft wire), 24 gauge
• long crystal point bead or other top drilled bead
• round nose jewelry pliers
• flat nosed (chain nosed) pliers
• flush cutters